Germany's migrants: Seehofer 'offers to resign' over migrants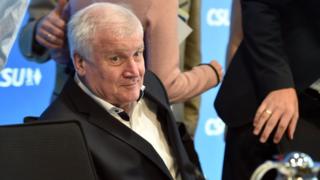 Germany's interior minister has offered to resign over Angela Merkel's EU deal to tackle immigration, reports say.
Horst Seehofer, leader of the CSU, a key party in Mrs Merkel's coalition, has grown increasingly angry at her position on immigration.
Last week he threatened to turn asylum seekers away from Germany's borders unless Mrs Merkel reached an acceptable deal with other EU partners.
His stance put Mrs Merkel's coalition and her political future in question.
NEWS
via BBC News – World https://ift.tt/2kB3qKe
July 1, 2018 at 05:18PM